A cruise is often seen as a vacation that isn't budget-friendly and is more on the expensive side, especially when you compare its price with other kinds of vacations. However, it is just a mere myth that you have to have a lot of money if you wish to go on a cruise. In this article, we will give you ten tips to cruise on a budget that will allow you to have fun on the waves without breaking the bank. So, read this article and don't let the lack of funds get in the way of cruising.
Cruise on a Budget
Top 10 Best Tips to Cruise on a Budget
1. To Cruise on a Budget, Work Out Your Budget
The first step to cruising on a budget is to determine what your budget needs to be. This isn't a straightforward task as different cruises offer different packages. Take Celebrity Cruises and P&O Cruises as an example. They offer an all-inclusive cruise due to which their price is obviously high. But the fare includes everything from boarding to meals to drinks to WIFI. In comparison, if you opt for a cheaper cruise like Costa Cruises, you will have to pay extra cash for the things Celebrity and P&O offer for free. Some cheaper cruises might even charge you for water with your meals.
Almost all cruises include meals, accommodation, entertainment, and activities. However, the things that you need to consider are the cost of flights, excursions, onboard expenses, and a pre-cruise hotel. Some cruise lines even give you an option to pay via monthly installments. So, before embarking on the cruise consider your budget for on-board and off-board expenses.
2. To Cruise on a Budget, Keep Your Eyes Peeled for Deals
Once you have an idea of how much you have to spend on a cruise the next step to cruise on a budget is to look out for deals. For this, you need to make a list of cruise travel agents, sign up for their emails, and follow them on social media platforms. This way you will be kept up to date about the cruise deals and packages.
If a cruise travel agent is pushing a cheap cruise deal that means that they need to sell it as soon as possible and will most probably be open to negotiation. This could be because the cruise travel agent bought the cabins in advance and now needs to sell them off to others before the time runs out. Ot it could also be that they have to reach a certain sales target and need to sell as many cabins as they can to get a commission.
Nevertheless, when you spot a great deal, you must act fast and book it within 24 hours as failure to do so will result in you losing the deal to someone more eager and impatient for a cruise. Moreover, cruise lines also offer deals and promotions, so if you want to cruise on a budget, it is best to keep your eyes peeled for deals and promotions.
3. To Cruise on a Budget, Book at the Right Time
The best time to book your slot on the cruise is as soon as the itineraries go on sale, which is mostly 18 to 24 months before the sailing date. This is when you will get the best deals and find the best choice of ships, itineraries, and cabins. Each category of cruise accommodation, outside cabin, balcony cabin, suite, and inside cabin, come at different price. A cabin that is in the centre of the ship will cost more as compared to the ones at the back of the ship or at the front.
When a cruise goes on sale, the cabins that tend to sell out first are the cheapest ones. Therefore, if you don't book right away, the ones left will be only the expensive ones. Moreover, if you don't want to book a cruise early, wait till the last minute and then book via cruise aggregators or through cruise companies, as most offer deals on cabins that didn't sell.
4. To Cruise on a Budget, Make Payments in Installments
Another great way to cruise on a budget is to pay the cruise fare via monthly installments. You can either set this up you're your travel agent or opt for a cruise line that offers interest-free monthly payment plans. When you opt for monthly installments, some cruise lines don't even ask for an advance deposit. Another way you can pay for a cruise monthly is by using a credit card with 0% interest on purchases. You can pay for your cruise upfront via the credit card and then clear the balance by setting up a monthly payment plan.
5. To Cruise on a Budget, Pick a Port Closer to Home
When booking a cruise, the most major expense is the airline tickets. The tickets are particularly expensive if you start your cruise from a port that is at a considerable distance from your home. Therefore, to cruise on a budget, look up your nearest cruise ports and check how much it will cost you to get there. In case you live within driving distance of the port, just go via road as it will make cruising a lot more affordable.
6. To Cruise on a Budget, Select an Inside Cabin
As mentioned before, each cruise ship harbors different kinds of cabins and some of them cost a fortune. Therefore, for those wishing to cruise on a budget, it is best to opt for a windowless inside cabin. Some people avoid inside cabins as they find them claustrophobic, however, if you are just using your cabin for changing and sleeping then it shouldn't be much of a problem. By opting for an inside cabin, you will be able to save hundreds.
There is another way to save money and that is by choosing a guarantee cabin. When you select a guarantee cabin, you do not get the choice to select a cabin number, instead, the cruise line will allocate it to you a few weeks prior to sailing. It is called a guarantee cabin, because you are given a guarantee that you will get the kind of cabin i.e. indoor, outdoor, or balcony, you want. In case you booked an inside guarantee cabin, but the cruise line ends up selling more than there are available, chances are that you will get a free upgrade.
7. To Cruise on a Budget, Do Not Pay Full Price for Children
Some cruise lines charge the full adult fare for kids, making family cursing eye-wateringly expensive. However, there are some like MSC Cruises that allow children under 18 to cruise for free when booking in the USA. When booking a family cruise in the UK however, MSC will charge you a small amount for bringing children. Another great cruise line for family cruises is the Costa Cruises which only charges the port and service fees for kids.
8. To Cruise on a Budget, Lookout for Onboard Deals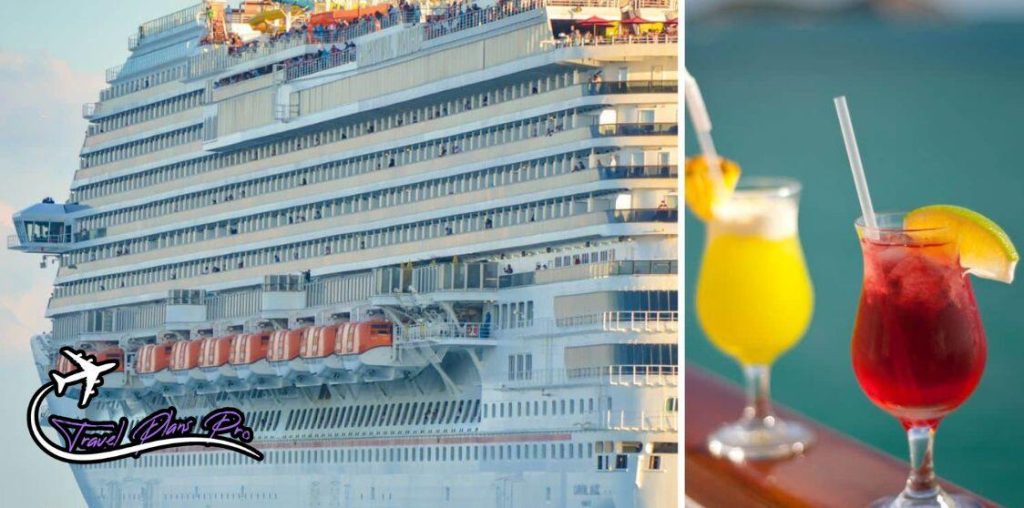 Most cruise lines tend to lure in more customers by offering sweet onboard deals and packages. Some offer free drinks packages, onboard credits, and specialty dining inclusions, while others provide combined food and beverages packages and some go a tad bit further, offering a complimentary bottle of wine on arrival.
These deals can prove to be quite the money saver if you make good use of them. Therefore, before opting for a deal, take into consideration if you will be actually saving money by going for it. Estimate how much you will spend on a particular thing, say drinks for example and then see how much you will save on drinks if you opt for a package.
9. To Cruise on a Budget, Watch out for Tipping Rules on Cruise
When it comes to tipping etiquette, every cruise line is different. Some include tips in the fare, some straight up say no, while some have a set minimum rate per day. Therefore, when booking a cruise be sure to look up its tipping rules, as they can make quite a dent in your budget if you walk in unprepared.
10. To Cruise on a Budget, Avoid Spending Extra Onboard
When you go on a cruise, your future is divided into two possibilities, either you will walk off the cruise without spending a single penny apart from the ticket, or you will leave with an itemized bill as long as your arm and will blow away your budget on the sea breeze and into to the deep pocket of the cruise line. But you can't blame the cruise lines for banking on people spending money onboard, as it's their job, cruise lines gotta eat. Blame yourself when you spend an extravagant sum by getting a massage or getting your nails and hair done at the spa.
Like a siren call, you will find countless things on board from specialty dining, to shore excursions calling your name to empty out the wallet, and as everything you purchase is charged to your onboard account via a cruise card, you won't be able to keep track of you spendings. Our advice is just to stick some beeswax in your ears and say hallelujah to every temptation onboard that threatens to break your bank.
If you just won a lottery or came into money and wish to spend your summer lounging on a luxury cruise ship then check out our list of top 10 best luxury cruise lines, that will give you the royal treatment and put you on a pedestal.